This is a complete re-write of Don Rae's essays on the board game Axis & Allies 2nd Edition (played with the rules variant where Russia may not attack on its first turn). I presume the reader is familiar with the rules and has played at least a few times. I also added significant new content (a table of contents, pictures, and a more detailed description of first-turn combat and non-combat moves), but the final result is still one-fifth the length of the original).1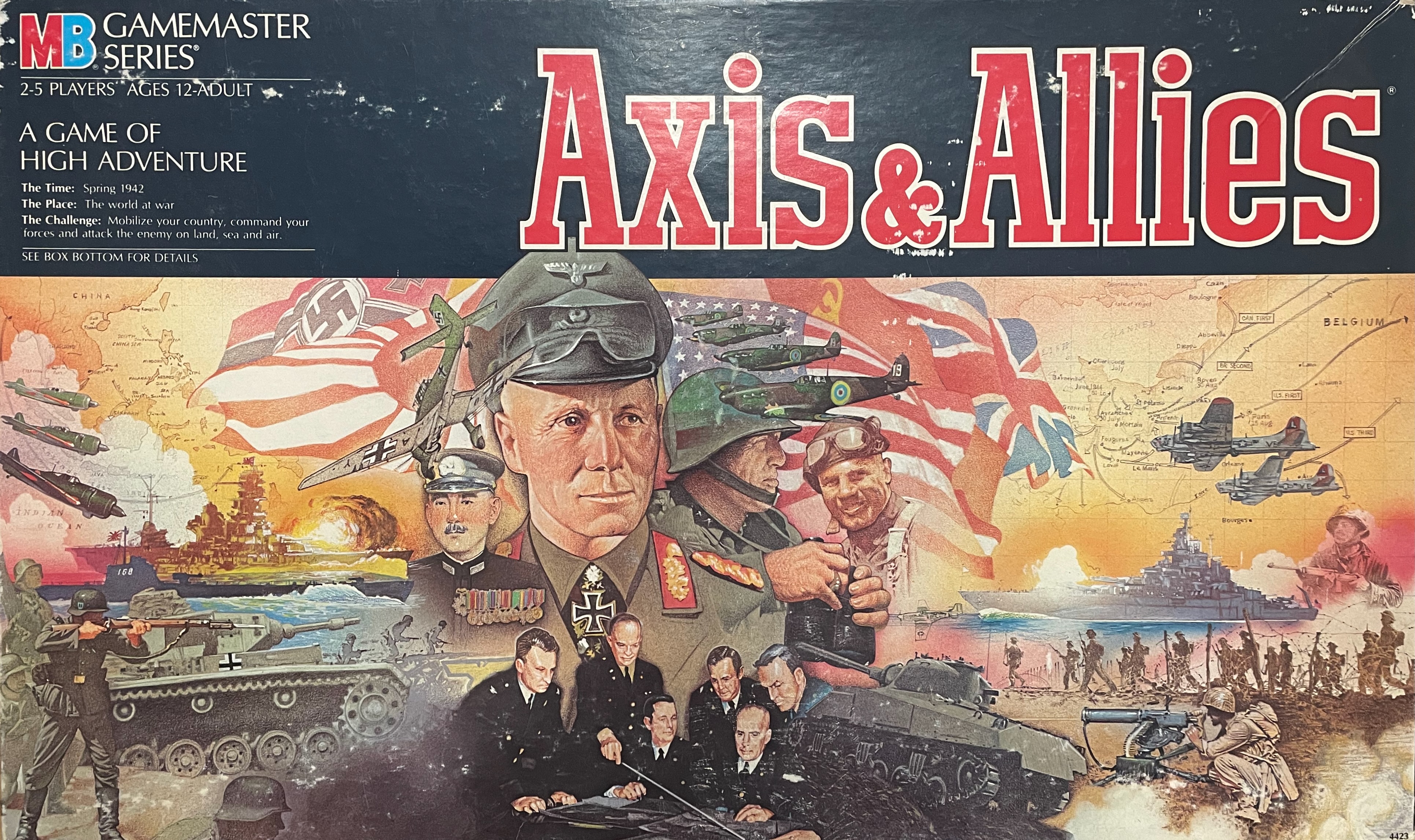 ---
Introduction
Sound Axis and Allies play requires each side work as a team with a shared strategy. The Axis are rich in units and poor in income but poised for rapid expansion. To win, Germany must quickly expand into Africa, which boosts their income at the expense of Britain, and Japan must expand into Asia, which boosts their income at the expense of Russia and opens a Russian Eastern Front that takes pressure off Germany. The Axis will win if they can out-earn the Allies early and then maintain this economic lead long enough to wear down then capture Russia before the Allies invade Europe.
The Allies are weak in units and poorly positioned, but they have a significant early economic advantage. They must smartly deploy the units they do have on the board then quickly mobilize to shore up Russia's defense, take-back Africa, and capture Germany before Russia falls.
Out-of-the-box, the Allies have a significant advantage, and it is very difficult for the Axis to win when two experienced and high-level players face-off. For competitive play the sides can be equalized if each player bids how many IPCs2 they'll spot the Axis to play as the Allies. The low bid takes the Axis and may use the IPCs to buy and place units during game setup. (This mechanic has the added benefit of mixing up the starting conditions.)
Good play requires mastery of every phase of the game. This essay starts with a basic description of land combat units and introduces a concept called the infantry-push mechanic, which recognizes that infantry are the key to building solid defensive fronts and thus victory. This foundation sets the stage to describe each nation's optimal first-turn: purchases, combat, non-combat actions, and unit placement. We then put this in context of the broader strategy from an Allied and then Axis perspective. The essay concludes with a description of the general game concepts that drive tactical decision making in future turns; specifically, dead zones, counterattacks, strafe attacks, and minimal attacks.
Land Combat Fundamentals
Infantry
Infantry is the game's most important and effective unit for two reasons: (1) it has the highest ratio of expected defensive hits per IPC; (2) it has the lowest cost-per-unit and is thus the cheapest way to absorb losses.
Compare the cost in IPCs to buy an expected value3 of 2 hits on defense:
Unit Type
# of Units for 2 Defense
Cost (

IPC

)
Cost Ratio
Infantry
6
18
—
Tank
6
30
1.7
Fighter
3
36
2.0
Bomber
12
180
10.0
Infantry is also critical because as the cheapest unit in the game it is the most cost-effective way to absorb losses. Without them, damage is taken by higher-value units (e.g., tanks, fighters, and bombers), either during an attack or in a counterattack.
The tl;dr is there's rarely a turn where infantry isn't purchased, as it's almost-always needed to replace front-line losses. Macabre, but also historically accurate.
Tanks
That's defense, but what about attack? Tanks costs 2 IPC more per unit and are three times better on attack, but an example illustrates why stocking up on tanks early cannot overcome an infantry-heavy defense:
Consider two players, each with 33 IPCs, who make different purchasing decisions:
6 Tanks and 1 Infantry (3.2 attack and 2.3 defense)
11 Infantry (1.8 attack and 3.7 defense)
Assume the players maintain the same purchasing strategy for three turns and then the first player attacks:
| Round # | Attack | Attacking Units | Defense | Defending Units |
| --- | --- | --- | --- | --- |
| 1: | 10 | 18 tanks, 3 infantry | 11 | 33 infantry |
| 2: | 5 | 10 tanks | 8 | 24 infantry |
| 3: | 1 | 2 tanks* | 3 | 18 infantry |
The outcome is unequivocal: the attacker is obliterated and the defender still has over half their forces. Even if the attacker retreats before turn 2, without defensive infantry it won't take much of an offensive counter-attack (i.e., adding some tanks or planes from another territory) to finish off the unprotected tanks.
We can re-run the simulation with different ratios of infantry to tanks and calculate the probability that the attacker wins if the battle is fought to completion.
| Attacking Tanks | Attacking Infantry | Attacker Wins | Expected Remaining Defensive Infantry |
| --- | --- | --- | --- |
| 18 | 3 | 1% | 19 |
| 15 | 8 | 2% | 17 |
| 12 | 13 | 4% | 17 |
| 9 | 18 | 4% | 17 |
| 6 | 23 | 3% | 18 |
| 3 | 28 | 1% | 20 |
| 0 | 33 | <1% | 22 |
A slightly higher infantry mix helps a bit, but this is still hopeless.
Defense is cheaper than offense, so buying tanks without adequate protective infantry wastes income on pieces that are easily destroyed and counterattacked.4 Successfully attacking a large stack of infantry requires an equally large infantry stack—plus expensive attacking pieces. That's why a sustained economic advantage is the key to success (and why games between experienced players can take a long time).
The Infantry-Push Mechanic
With this background, we define a fundamental concept, the Infantry-Push Mechanic: purchase infantry before tanks (or fighters or bombers), push infantry to your fronts to develop them,5 and only then reinforce with attack-capable units.
The First Turn
The first turn is critical because it's when each side establishes (reveals) its strategy and can make mistakes that put them in an insurmountable hole. But the starting position are fixed, so the first-turn purchases, attacks, and non-combat moves can be basically scripted within a narrow set of reasonable choices.
The following sections lay out notional first turns for each nation. The underlying strategic motivations are explained in more detail later.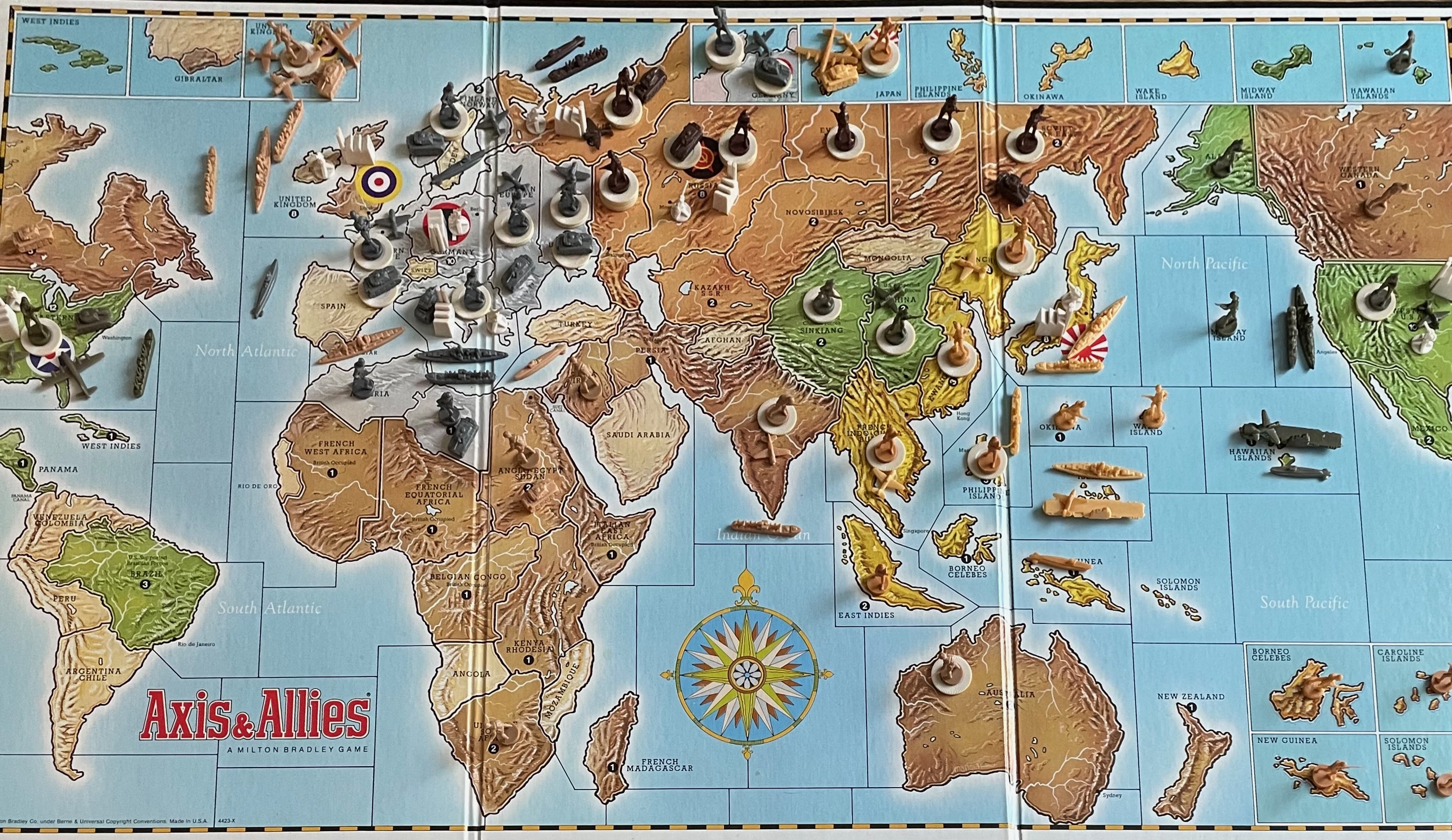 Russia
24 IPCs: buy 8 Infantry
By rule, Russia isn't allowed to attack on the first turn, so here are its non-combat moves and placement:
1 sub and 1 transport move to the British sea zone as cannon fodder for Germany's inevitable first-turn attack on the

UK

fleet. This forces Germany to come with more force, lest that

UK

battleship get two chances to return fire.
Leave 1 infantry in Caucasus (Russia never gives up free territory, in the game as-is in life); move the rest (plus 1 fighter and all infantry in Russia) to Karelia.
The tanks in Russia move to Karelia and/or Novosibirsk, and may be split up. Move the Soviet Far East tank to Novosibirsk as well. These tanks can counter-attack south or east.
Consolidate the Eastern Front infantry in Yakut, but leave 1 infantry in Soviet Far East. Soviet Far East is a dead zone that is easily captured on Japan's first turn; Yakut is not.
Place 8 infantry in Karelia.
The result is ~20 rolls of infantry and tanks and two fighters (8 defense). If Germany attacks with all available forces (9 infantry, 5 tanks, 5 fighters, 1 bomber) they have a 20 percent chance of winning, but the most likely outcome is Russian winning with 8 units remaining. (This also exposes the entire German air force to anti-aircraft gun fire; one set of bad rolls here could be game for the Axis.) This German attack also has enormous opportunity cost in terms of other potential first-turn opportunities.
Germany
32 IPCs: buy 8 Infantry and a Transport
The infantry supplement the German invasion into Africa and build up offensive and defensive capability on the European continent. The transport supports a quick, decisive invasion of Africa. (This strategy is better than building a factory in Egypt on the second turn, because it's cheaper and quicker to move infantry and tanks via transport.)
Combat moves:
Capture French West Africa from Algeria. Free territory!
Capture French Equatorial Africa from Libya. Ditto!
Attack the sub near Egypt with 1 bomber from Germany. The sub can retreat after one round—and it can really throw a kink in Germany's naval plans—so I use a bomber to increase my odds of a first-turn hit.
Attack the Gibraltar battleship with 1 sub and 2 fighters (from Ukraine and Eastern Europe). Destroying this ship is critical; otherwise, it can work with the bomber from Britain6 to attack the German fleet in the Mediterranean (especially if that

UK

sub gets lucky and retreats to the Black Sea). There's a 92 percent chance both fighters survive.
Attack the

UK

-based fleet with 1 transport, 1 sub, and the 3 remaining fighters. There's a 50 percent chance of all fighters surviving, and 74 percent chance of only losing one.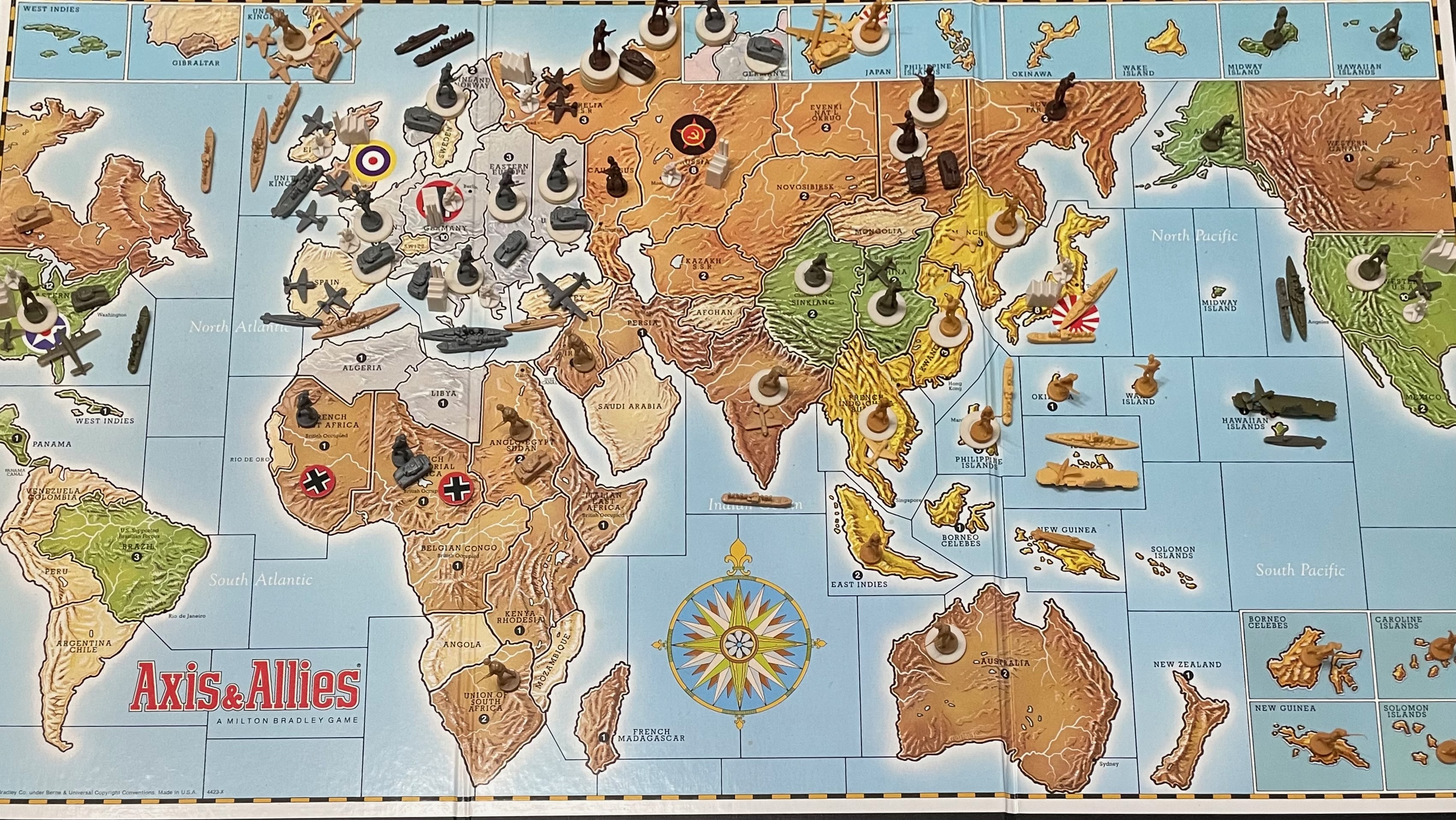 There are many other things Germany wishes it could do, but they're just too marginal and high-risk. (This is where just a little extra firepower from a bid can help the Axis.) For example:
Attacking Karelia, even for just one turn, enables 2 infantry and 1 tank from Finland to retreat to Eastern Europe. Unfortunately, since the German air force is busy (we also don't want to expose it to anti-aircraft guns), the most we can attack with is 7 infantry and 7 tanks. Against Karelia's defenses, we're apt to lose all the infantry and some of the tanks, which is more than we save from Finland. Even worse, we'd be open to a devastating counterattack with only 7 tanks and 6 infantry (from Germany and Southern Europe) available to defend (thinking about counterattacks is a concept we'll discuss in more depth later).
Attack the Eastern Canada transport with 1 bomber from Germany. The odds here are very good (93 percent chance of destroying the transport; 75 percent chance of the bomber surviving), but a one-in-four chance of losing a bomber is high because it's so useful for strafing on Germany's Eastern Front) and because the opportunity cost is a 15 percent boost in the probability of destroying the Mediterranean sub (compared to attacking it with 1 fighter).
The German transport in the North Sea can't be used to save troops in Finland because it's needed as cannon fodder for the British sea battle. It's more important to save 1 fighter than 2 infantry.
The German navy in the Med can't be used at all because it needs to stay put and protect the new transport Germany is going to place at the end of its turn. Undefended, a lone transport is easy pickings for a lucky

UK

sub or the British bomber. Plus we want to transport troops to Africa during non-combat. Once the British fleet in the Med is destroyed and Germany captures Egypt and Syria, the German Med fleet is untouchable by anything except bombers from Karelia.
Non-combat moves and placement:
Withdraw all but 1 infantry from Ukraine to Eastern Europe. Ukraine is a dead zone. If Germany had more air force it could attempt to minimally capture Caucasus, but they don't.
Transport 2 infantry to Libya (for a swift conquest of Africa).
Land the bomber in Western Europe (this forces the

UK

and

US

to be careful with their transports).
Leave 1 tank in Southern Europe (to move to Africa next turn), but otherwise consolidate all available land forces in Eastern Europe (including any fighters that can make it).
Land any other fighters (e.g., the ones that attacked the battleship) in Western Europe, then further reinforce it with 2–3 infantry.
Move the

AA

gun from Southern to Eastern Europe. This discourages Russia from attacking it with fighters, and there's no way for any Allied bombers to reach Southern Europe for strategic bombing without flying over a German

AA

gun.
Place the transport and 2 infantry in Southern Europe and the balance in Germany.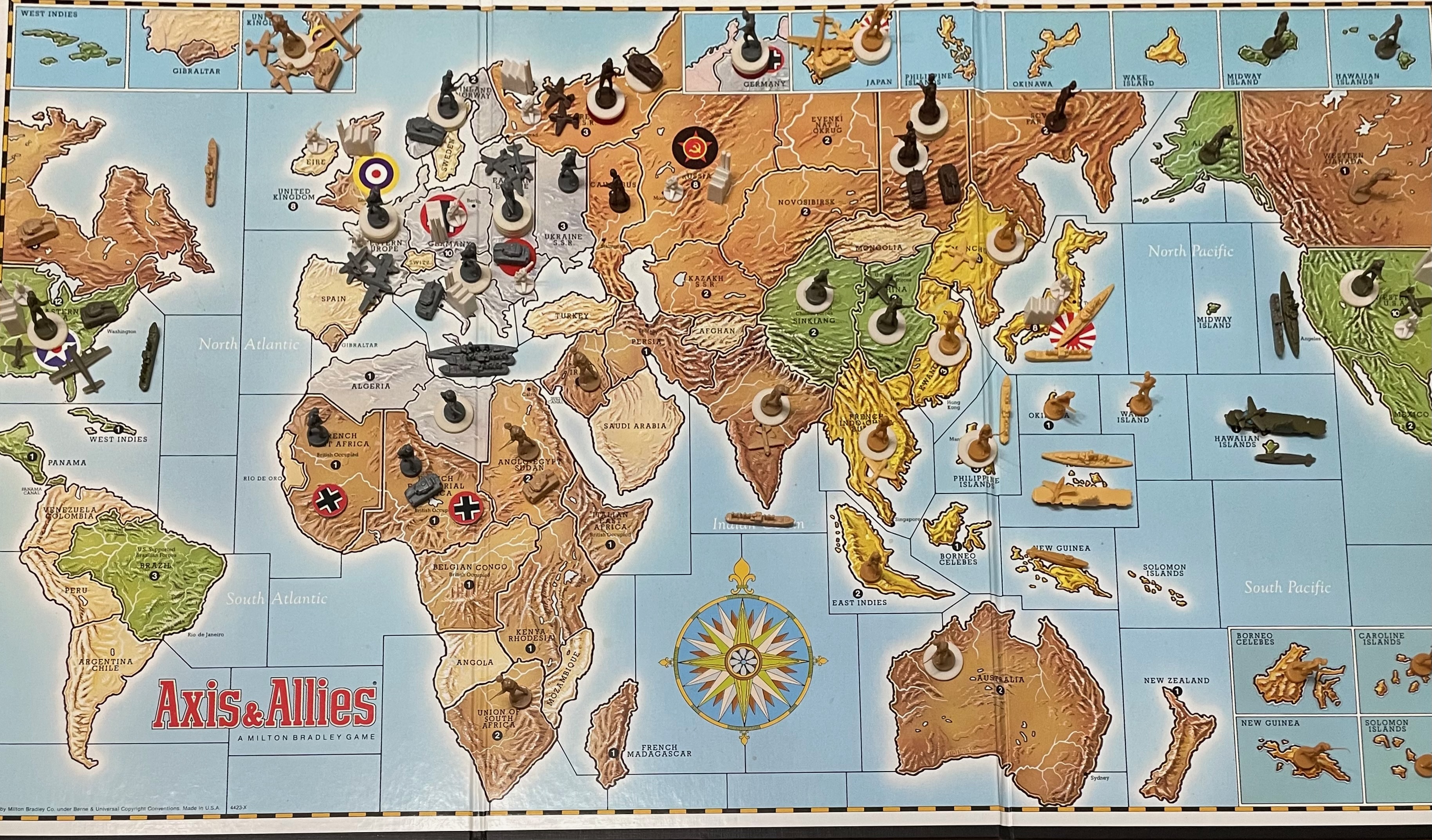 UK
The UK is an exception to the infantry purchase guidelines because it is the most exposed nation whose only factory is in Britain. Unless it plays aggressively on the German and Japanese fronts it will lose territory too quickly, which will destroy their purchasing power and thus their ability to assist the other Allies. The UK needs a factory in Asia.7
30 IPCs: buy an Industrial Complex and save 15 IPCs
The UK doesn't need to make any first-turn combat moves. Its non-combat moves and placement are:
Use the Indian transport to move 2 infantry from Egypt and Syria to India. This transport also prevents the Japanese transport in the Philippines from attacking India, as it would need air support to clear out the

UK

transport first; plus, a lucky hit from the

UK

transport would be catastrophic, taking out a Japanese fighter or a transport loaded with 2 infantry.
Move 1 tank from Egypt to Persia. It hurts to give up Egypt with no contest, but the units are more valuable in the defense of India, which is otherwise too tenuous for Japan's first turn.
Move 1 infantry from South Africa to Kenya.
Move 1 transport from Canada to Eastern

US

. Even here it's still within range of the German bomber, but there's more strength in numbers.
Move 2 fighters from Britain to Karelia.
Place the factory in India.
The Indian factory seems scantly defended, but at most Japan can attack with 2 infantry, 2 fighters, and 1 bomber. This has a 42 percent chance of working, and a loss is essentially game-over for Japan. Even if they win, at least 1 fighter and 1 bomber must land in Burma, where they're open to counterattack (from the tank in Persia, 2 infantry and 1 fighter from the US, and/or Russian tanks in Novosibirsk).
A sidebar on placing the factory in South Africa:
If Germany attacks and takes Egypt on the first turn, the UK can counterattack using the fighter from India and three infantry from India and Iraq (retreating entirely from India).

A South African factory can permanently stall the German advance into Africa if Germany moved their transport into Egypt's north sea zone on the first turn. Any German sea units that were built in Southern Europe are left unprotected (‽), and should be taken out by the British Bomber.

However, consider the following before deciding on this gambit:

Is Germany offensively weak (e.g., did they lose fighters on the first-turn attack in Europe)? This is enabling for a South African factory strategy.
Does Germany have at least half of their African forces deployed to Algeria? This gives the

UK

more time to build up in South Africa.
The British bomber needs to be sent on a potential suicide mission to destroy a lone German transport in the Mediterranean. This cuts off Germany's ability to resupply the African front.
Britain needs to deploy fighters to South Africa by turn 3. This can be tricky, as there aren't great places to land them during turn 2.

Ultimately, it's hard to recommend this strategy. The factory is limited to two units per turn and hard to defend if Japan invades South Africa; the air units are also easily trapped (the cutoff point is India/Persia, and they're always two turns away from Karelia).
Japan
25 IPCs: buy 2 transports and 3 infantry (basic); buy 3 Transports and save 1 IPC (advanced)
Do not build a first-turn factory on the mainland; it won't put enough pressure on Russia. A first-turn mainland factory can't place units until the end of turn 2, and its opportunity cost is 2 transports. Insufficient transport capacity strands free infantry on Japan and the surrounding islands and has less bandwidth (4 units via transport versus 3 for a factory). Transports are also more flexible and can deploy troops where needed, rather than to a fixed location.
Japan should build a mainland factory…but later.
Combat moves:
Use 1 infantry from Kwangtung, 3 infantry from Manchuria, and 1 fighter from Burma to capture China and discourage a

US

factory in Sinkiang. Probability 68 percent. Bummer to leave 1 infantry in Kwangtung, but otherwise that Indian transport could cause trouble.
Attack Soviet Far East with 1 infantry and 1 fighter from Manchuria. Obviously withdrawal if the infantry is lost (53 percent capture, 90 percent kill the infantry but don't take territory).
Attack Pearl Harbor with all available fleet (except for the transports), 2 fighters (to be landed on the carrier), and the bomber (just to make sure).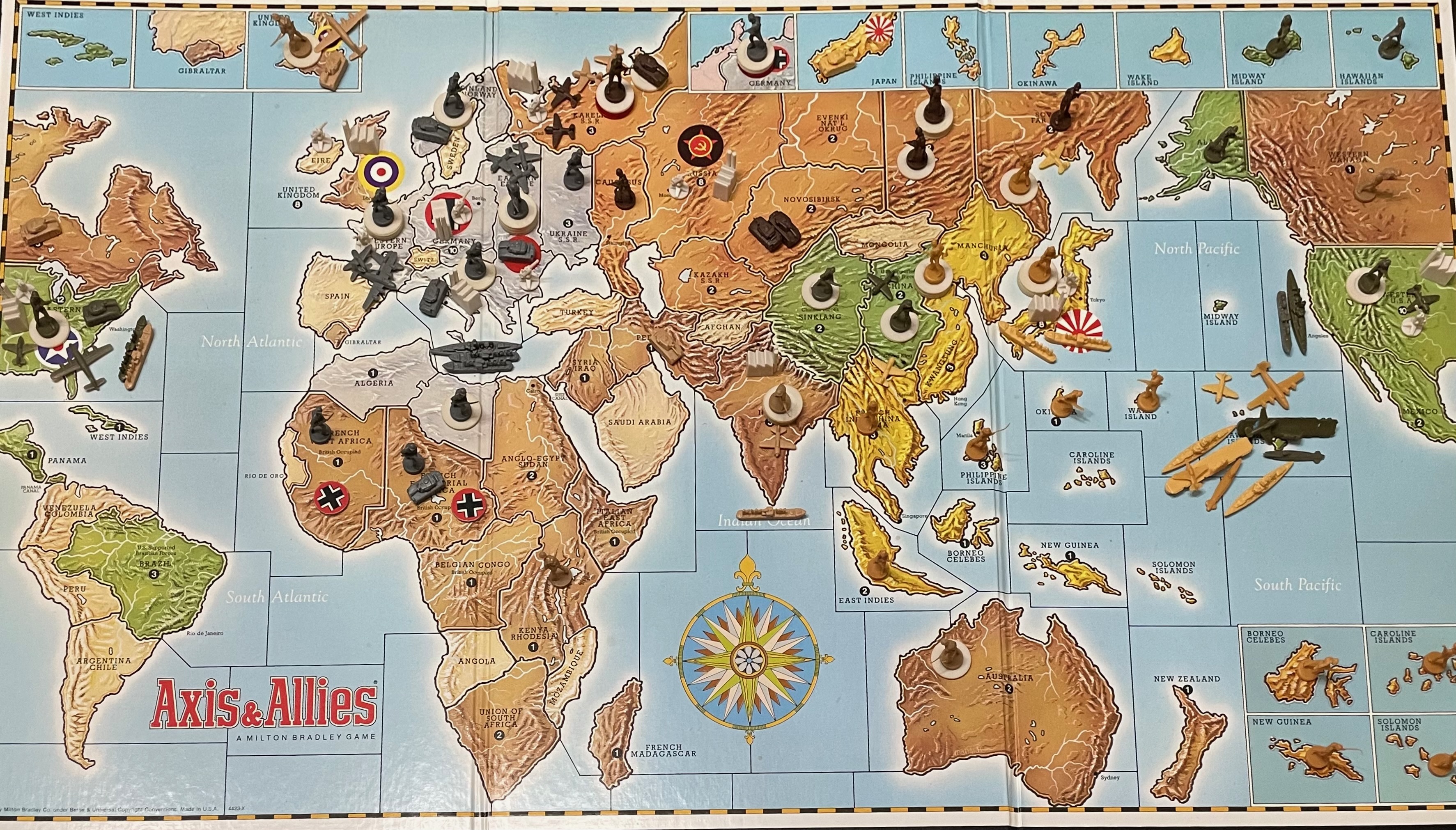 Pearl Harbor
Pearl Harbor should always be attacked. If this fleet is not destroyed the US can use it against you in the Pacific (non-optimal) or pass through the Panama Canal to support the US Atlantic invasion.
The objective is to destroy all 3 US units in the first round (78 percent). This prevents the US player from retreating their submarine, which can create havoc for Japan on counterattack, or for Germany if moved to the Atlantic.
Japan should remove its sub as their first declared loss. About half the time Japan will lose a second unit, in which case there are three options:
Battleship — this goads the

US

into counterattacking, instead of redeploying through the Panama canal, and saves the bomber and fighter for future attacks (in exchange for reducing Japan's sea fleet defense). If the

US

doesn't take the bait that's probably okay too, as the battleship has little future value in an empty Pacific (especially once Japan owns all the coastal territories and the battleship can no longer use its first-shot attack).
Bomber — this maximizes naval defense, but that bomber is nice to have later for strafing attacks in Asia where there's a dearth of

AA

guns.
Fighter — this saves the bomber and is the cheapest unit to replace.
Non-combat:
Transport 4 infantry to Manchuria (2 from the Philippines, 2 from Japan).
Land available fighters in Manchuria.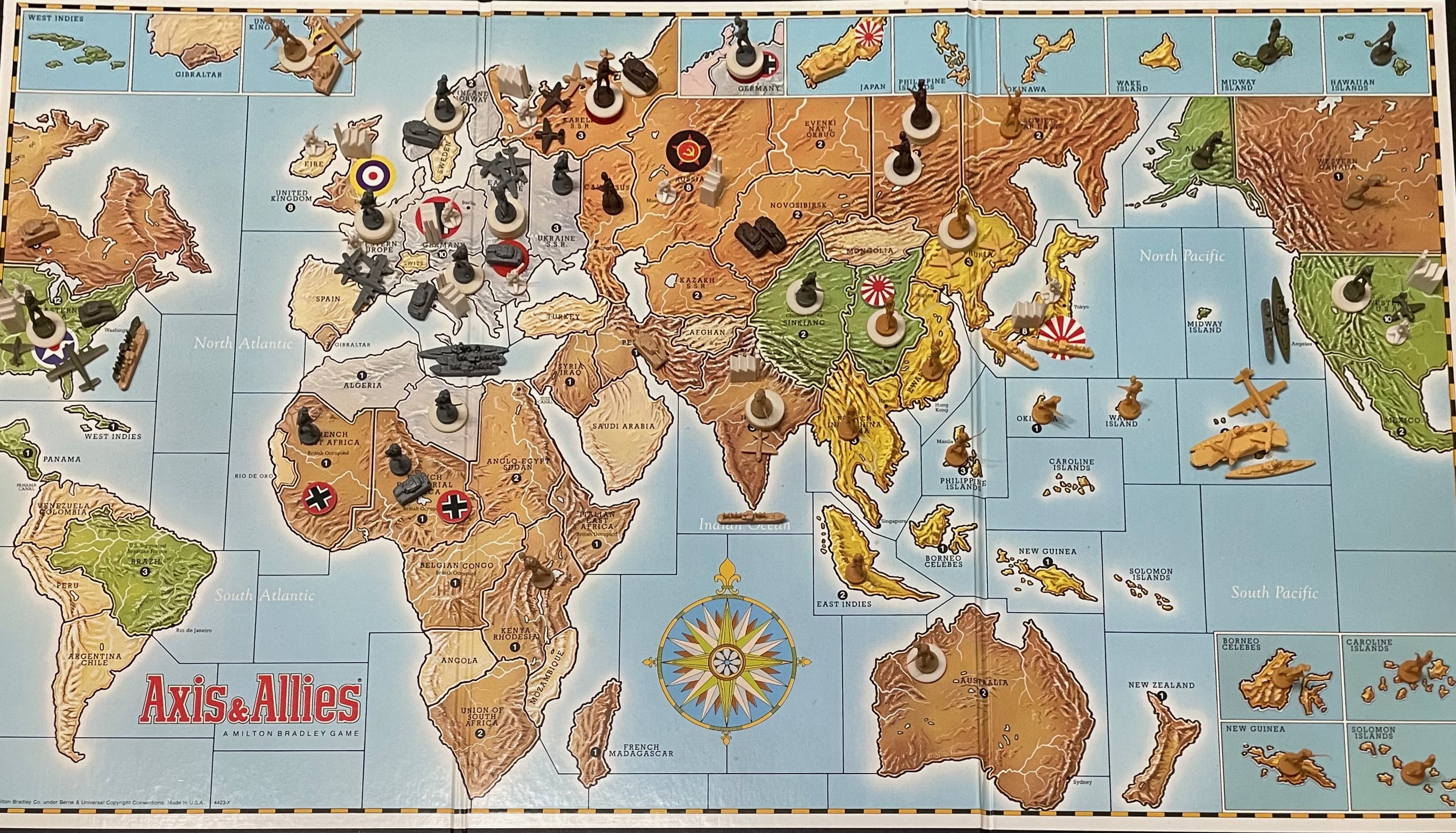 United States
36 IPCs: buy 2 transports and 6 infantry, save 2 IPCs
The US strategy is to ignore Japan in the Pacific and start setting up the shuck-shuck that enables a quick strike into, and sustained troop support of, Norway, France, and/or Algeria.
The US purchase can vary depending on Axis play in Europe or Africa. For example, a German Bomber in France may suggest building an extra transport or saving for a turn.
The US has no first-turn combat. Non-combat:
Move the remaining Pacific fleet to the Panama Canal sea zone.
Move 2 infantry and 1 tank from Eastern

US

to Eastern Canada.
Retreat 1 infantry to India.
Russia Turn 2
Russia's second turn is included here because it's their first chance to attack.
Buy all infantry
Combat:
Norway is mandatory. Germany has no ability to counterattack, so this is the ideal place to use Russian tanks. Take as many infantry as Germany has units.
Forces left in Ukraine or Caucasus are vulnerable, and a counterattack is only possible from East Europe or Germany. It is a German mistake to leave tanks or fighters on this front. If they do, use as much force as necessary destroy these high-value units. If Germany reinforces this region on the first turn, attack to kill off a few pieces then retreat to Karelia.
Eastern Europe is a key front, but even as early as turn 2 it's too speculative to determine if it can be captured or successfully strafed. It is important to occasionally strafe this territory to prevent Germany from building up a stack of infantry. This inhibits their ability to attack Russia, prevents a counterattack on Ukraine or Karelia, and cuts off any advanced German forces from reinforcements.
The Allies
The US is the key to an Allied victory, especially when playing against experienced Axis players. The US is also the hardest nation to play because its forces are deployed via its navy. The other Allies must coordinate and share resources to delay the Axis advance until the US war machine gets rolling.
Broadly speaking the nation-specific Allied objectives are:
Russia needs a solid front to keep pressure on Germany and to do as much as they can to slow Japan's advance into mainland Asia.
The

UK

needs to establish an offensive delaying action based out of an Indian factory to keep pressure on the Japanese and off of Russia.
The

US

needs protected transport capacity that rapidly move troops to Europe and/or Africa and put early pressure on Germany and help Russia.
Russia: The Western Front
Build infantry.
When possible, capture Ukraine and Caucasus with minimal forces, to cash out higher. Do not use tanks if they can be counterattacked.
As mentioned above, strafe Eastern Europe to knock down Germany's infantry. Strafe attacks can include tanks, but do not accidentally capture a territory you cannot hold.
Repeat until you have infantry support from

US

or

UK

forces in or near Karelia, at which point Russia can build offensive units to attack Germany.
Russia in the East
Do not waste forces on low-probability attacks: attack with force, but only where Japan cannot counterattack, and never leave your tanks open to counterattack. Look for unprotected Axis tanks and fighters.
Retreat and regroup when faced with overwhelming odds, but always leave at least one infantry behind. Give nothing for free and especially no Japanese blitz routes into the mainland.
UK

Strategy

On turn 2, the UK should have ~43 IPCs. Buy an aircraft carrier (18 IPCs),8 2 tanks for India (10), 1 infantry (3) and a fighter (12). Skip the infantry if there's not enough money.

On turn 2, the UK needs to clear out any German units in British waters so they can place their units. The US will land fighters on the aircraft carrier on their second turn and reinforce it with US transports. The resulting Allied navy is too strong for Germany to attack.

The UK's long-term strategy:
Use fighters and bombers to prevent Germany from building up a fleet in the Atlantic.
Build a fighter every turn to land in Karelia then transfer it to India if possible.
Build tanks at an Indian (or South African) Factory every turn, and if threatened by fighter attacks (and/or strategic bombing) fit in an anti-aircraft gun.
Only add to the British fleet once Eastern Europe is about to be taken by

US

forces with overwhelming force from Karelia.
Play very aggressively out of the Indian factory.
The Indian Factory
The Indian factory is the notable exception to the infantry-push mechanic guidance. Purchased factories have a hard limit on the number of units they can produce, so their constraint is capacity, not money, and hits-per-unit, not hits-per-IPC, is the meaningful figure-of-merit. This means there are two viable strategies for using the Indian factory:
Buy nothing but tanks and play aggressively. Force Japan to continuously beat back

UK

offensives. The Indian factory may fall faster this way, due to fast depletion of front lines, but with

UK

fighter support India becomes formidable and can force Japan's play (e.g., they may have to take out Australia and New Zealand to reduce the

UK

's income).
Buy combinations of infantry and tanks. This approach is not as aggressive, and generally allows the Japanese to cash out higher, but it allows the

UK

to save more tanks and save money for the occasional extra fighter or bomber.
With both approaches, use fighters to supplement land-based attacks but do not let them die. Call off any attack that could result in losing a fighter. If supplemented every turn, the UK fighters can grow to immense proportions, which makes this area of the board very difficult for Japan to contend with. And never give the Japanese free territory to blitz through, especially to India.
Regardless of approach, experienced Japanese players will eventually capture this factory, and the only reason it works is as a delaying tactic that helps Russia survive while the US prepares to invade Europe.
Play changes if the UK places a factory in South Africa. Instead, buy two tanks for South Africa. The UK infantry should be north of South Africa, defending the blitz path, and the transport should be in the Egyptian canal to block the German fleet. Thereafter, the UK builds two tanks in South Africa and fighters in Britain. The US helps from northwest Africa.
US

Strategy

If the UK built a carrier on turn 2, land both US fighters on it and move transports, fully loaded with US infantry, to Norway. Otherwise, build a US carrier and transports. Move the Pacific fleet to join the main Atlantic fleet. The purpose of this fleet is to perform what Don coined The Shuck-Shuck.
The Shuck-Shuck
Why shuck-shuck? It's onomatopoeia for the sound the US player makes as they shuck their transports from Algeria, France, or Norway to Eastern Canada, load them up with units, then shuck them back. The shuck-shuck results in a steady, and steadily growing, stream of infantry landing in Algeria, France, or Norway every turn. It takes a couple of turns to get going and requires a bit of foresight to execute optimally (i.e., to spend all the US income while keeping the pipeline of infantry balanced with transport capacity), but once it's rolling it is like the US has a factory in Europe. Here are the basic steps:
Build infantry (at first) and/or tanks (later, or never) for placement in Eastern

USA

.
Perform relevant combat moves (see details below).
Perform the shuck-shuck, which is mostly non-combat until the

US

is ready to invade Western Europe.
Other non-combat moves are infantry and tanks from Eastern

US

to Eastern Canada and infantry and tanks from Norway to Karelia.
Place newly built units in Eastern

US

.
Shuck-Shuck Details
On their combat or non-combat turn, US transports located in Eastern US optionally pick up needed units and move to Eastern Canada where they are joined by transports from Norway, France, or Algeria. The transports fill up with units then deliver them back to Norway, France, or Algeria.
If the UK owns the carrier, they need to move it to the US's expected drop-off point during their turn.
Setting up a steady supply of ground troops from Eastern US to Eastern Canada enables the US transport fleet to deliver a full complement of troops every turn to Africa and/or Europe. France is threatened every turn, and it's worth too much to let America capture it, so Germany must devote infantry and fighters to its defense.
Eventually, using troops deployed to Norway then moved to Karelia, the US can capture Eastern Europe, which Russia reinforces before Germany's turn. Once this happens it's usually game-over for Germany in 2-3 turns.
The shuck-shuck forces Germany to choose between holding Africa or holding off Russia when they need to do both.
Key points:
Never move the

US

transports out of position. They must always be able to pick up from Eastern Canada to keep the shuck-shuck going.
Never split up the fleet because then the German air force can pick it off ship-by-ship.
Optimize purchasing to deliver full loads. Don't build more units than your current and next-turn transport capacity. When there's extra money expand transport capacity (n.b. buy 1 transport with 4 infantry: 2 for it to transport from Eastern

US

to Europe on the next turn and 2 to move to Eastern Canada to maintain shuck-shuck balance.
The Axis
The Axis have to attack aggressively and quickly capture territories to expand their income.
Germany's Objectives:
Develop the Russian front (forcing them to build only infantry), and minimally take Caucasus and Ukraine when possible.
Use the Mediterranean navy to take and hold Africa as long as possible, to increase Germany's income and decrease the

UK

's.
At some point probably sacrifice this navy and the German air force to destroy the shuck-shuck transport capacity and set back the Allied resupply lines by a turn or two. If timed perfectly, this can be coordinated with a German ground assault on Karelia and a Japanese one on Russia.
Japan's Objectives:
Develop transport capacity to the mainland to supply ground troops.
Quickly capture the Indian factory, and build another mainland factory on the same turn to bolster mainland offense.
Destroy Russia's forces in Asia and capture territory to gain income and minimize the income Russia has to spend on the German front.
Use the navy to pick off territories in the Pacific and/or keep the

US

honest by threatening Hawaii, Alaska, Panama, or even Western

US

.
Key points:
Preserve the Axis air force. Fighters and bombers are a long-term strength when using the infantry-push mechanic because after capturing a territory they are not left on the front lines and subject to counterattack (unlike tanks).
Use the infantry-push mechanic: build infantry to reinforce the fronts and use fighters to supplement offense and hold fronts.
By turn 3 Japan should have at least 4 transports. An extra transport can join the reset of the navy, harvest infantry from the South Pacific islands, and use them to capture Allied territory in the Pacific.
After turn 4, Japan should have 15-17 infantry on the mainland, with supply lines and income for 8 more per turn dropped off anywhere from Soviet Far East to Burma.
Sometimes the Axis can set up a one-two punch: Germany strafes Russia first and Japan finishes them off.
Do the same to the Atlantic navy. Japan brings its navy through the Panama canal to wear down the Pacific fleet for Germany to polish off.
General Tactics
This section describes the previously mentioned game concepts of dead zones, strafe attacks, and minimally occupying dead zones.
Dead Zones
A dead zone is a disputable land or sea territory subject to an overwhelming attack force, where overwhelming means an attack that could severely deplete or destroy the defensive units. The concept is best illustrated with examples.
Pearl Harbor Dead Zone
At the start of the game, Pearl Harbor is a dead zone. The US has 1 submarine, 1 carrier, and 1 fighter, for 1.5 defense. The Japanese can attack with 1 submarine (with pre-strike), 2 fighters, 1 bomber, and 2 battleships, for 3.3 attack.
This attack might take two rounds to finish, but the result is the destruction of all US forces (38 IPC replacement cost) and 1-2 Japanese units destroyed (8–23 IPC replacement cost, depending on what's taken as damage). This means the US forces are in a Japanese dead zone because the exchange is so lopsided for Japan.
However, Japan must also assess if, upon winning, they have placed their forces in a US dead zone (i.e., can they be counterattacked with overwhelming force?).
Japan is projected to lose two units, so presume this when assessing a potential counterattack. Assume Japan takes a submarine and bomber as losses (the most defensive-oriented option). They have 2 battleships, 2 fighters, and 1 carrier, for 3 defense. The US can counterattack with 1 battleship, 1 bomber, 2 fighters, and 1 transport (can take damage but has no attack value), for 2 attack.
If the US counterattacks and fights to completion, and if both sides take losses to maximize their remaining attack and defense capability, the US should expect to lose all 5 units worth 71 IPCs and Japan 3-4 units with 60–70 IPCs. Since Japan comes out even or slightly ahead, this is not a US dead zone and Japan can proceed with the first-turn Pearl Harbor attack.
This is purely an economic calculus, but dead zone thinking also includes assessing opportunity cost and looking at the map to consider unit positioning and territory.
For example, after a US counterattack, the relocatable North American air support and Pacific fleet are destroyed. Even if good rolls result in the US winning the battle they have committed all of their mobile forces to this attack and sacrificed the ability to support the Atlantic front.
From Japan's perspective, most of their advance fleet and maybe some air force was destroyed; however, this is survivable because the US fleet is also gone leaving Japan with free rein in the Pacific. The US can commit more money to build a fleet back up—or more likely abandon it altogether and focus on Europe. Positionally, Japan is still on the offensive because it does not need naval power to invade Asia.
Russian Asia Dead Zones
This example presumes a plausible board situation for Russia's third turn.
Russia has 6 infantry units and a tank in Yakut, 1 infantry in Novosibirsk, and 3 Russian tanks and 2 fighters in Karelia that could possibly be redeployed to East Asia.
Japan has 6 infantry, 1 tank, and 2 fighters in Manchuria; 1 infantry in Soviet Far East plus 1 transport, 1 carrier, and 2 battleships off the coast; and 4 transports off the coast of Japan. This means Japan has 5 fighters, 7 infantry, and 1 tank within striking distance of Yakut.
How should Russia assess dead zones and determine whether and what to attack? Start with Manchuria. Russia has only one attack piece; it will lose a few units attacking something so well fortified and might get one kill. This isn't a dead zone, this is suicide.
How about Soviet Far East? It probably requires 1 tank and 2 infantry to capture, to regain 2 IPCs of income. Already dubious. If Japan counterattacks with all of its Manchuria-based forces and transports full of infantry from Japan it obviously wins this battle. This means Soviet Far East is a Russian dead zone. Even worse, taking it reduces the defense of Yakut to only five units making it a dead zone as well.
A similar analysis applies to Yakut, even if it is maximally reinforced. Russia's best move is to retreat all but a single infantry. This saves Russia's units from a next-turn attack and forces Japan to expend at least one (and probably two infantry) plus one attacking unit (if they really want to ensure they capture the territory).
Using Dead Zone Management in Counterattack Structures
Counterattack structures are a series of overlapping dead zones. In the previous example, where Russia retreated from Yakut against bad odds, Russia needs to set up a counterattack dead zone for Russia so they can slow the advance.
To execute it, during the non-combat movement phase Russia leaves one infantry in Yakut. This forces Japan to commit more that one resource to capturing it. Then to keep the pressure up Russia should redeploy their forces to set up Yakut as a dead zone.
Russia retreats to Novosibirsk (where the forces can defend Sinkiang as well). There are also two infantry in Russia (built on the previous turn) available to move to Novosibirsk. The result is 8 infantry. Turning to attack potential, Russia retreats 1 tank from Yakut to Russia where it's joined by tanks from the Western front. Fighters in Karelia are also within striking range of Yakut. So Russia has 8 infantry, 4 tanks, and 2 fighters that threaten Yakut and Sinkiang and can destroy 5–6 units on the first turn of a battle.
As a result, Japan now needs to commit significant resources to secure Yakut. If they do this without their own counterattack structure they'll both lose the front and waste several turns getting it going again. This buys important time for the Allies.
Japan now has to choose between taking territory in Russia vs. dealing with a first-turn Indian factory. Japan's best decision is probably to capture Yakut with minimal force (e.g., 2 infantry, 1–2 fighters) and resign to Yakut being a dead zone for both them and Russia.
Dead Zone Umbrellas and the Indian Factory
A dead zone umbrella is surrounding areas you want to turn into dead zones (e.g., areas your opponents occupy) and building up forces to nullify opponent dead zones.
A good example is Japan's advance on the Indian Factory. Using the infantry-push mechanic, Japan advances their front line from Manchuria to Kwangtung and East China, then to Burma and Sinkiang, and finally to India.
Enabling this is a steady-stream of infantry-push mechanic reinforcements that turn Japan's front line territories into dead zones for the UK (i.e., they might be able to capture a front-line territory, but right behind it is more infantry so Japan can capture it right back).
Strafe Attacks
The strafe attack is the most important type of attack to master. It's defined as an attack that weakens an enemy's front lines but retreats before capturing the territory or losing any expensive-to-replace attack units.
Strafe attacks can deplete enemy forces in what would be dead zones if captured; this serves multiple purposes:
it destroys their ability to counterattack, since without infantry their high-value attacking forces would be at risk;
until reinforced, a well-strafed territory is an unsafe place to land fighters or station tanks, which pushes back the front;
strafe attacks soften up strong territories with poor supply lines (for capture on a future turn).
Russia's Eastern Front is a good example of the last case. At the beginning of the game, these forces are strong in numbers, but generally have little-to-no reinforcement. If Japan can strafe these forces down they weaken Russia without leaving Japanese troops in a Russian dead zone. Once depleted Japan can quickly advance on Russia.
Minimally Attacking and Occupying Dead Zones
Attacking and occupying a dead zone with minimal force is another key tactic. The benefit of occupying a territory is that it can force your opponent to recapture it to regain the lost income and/or continue advancing their front lines. The benefit of occupying it with minimal force is you make it impossible to strafe.
When both sides use this technique it's common to see an overlapping dead zone (such as Ukraine) trade hands back-and-forth turn-after-turn.
Don't take a territory with force unless you can hold it the next turn, survive strafes with no loss of high-value units, and have supply lines to reinforce it on your next turn and every turn thereafter. This is how you advance the front line. When this isn't possible the options are:
fortify your current position against enemy dead zone umbrellas;
retreat, if unable to fortify, or if attacking or holding would strand your forces in a dead zone;
occupy a more forward territory with minimal force to cut off the enemy's ability to directly attack your weak territory.
Key tactical considerations in planning a minimal occupation:
What is the minimal force required to capture this territory?
How much value is sacrificed, and how much enemy value destroyed (look forward to counterattack possibilities)?
What is the

IPC

value of the territory? For example, if a territory generates 3 IPCs it's an economic swing of 6 if they're unable to recapture.
What is the territory's strategic value (e.g., is it within striking distance of an industrial complex?).
Examples:
Burma and Sinkiang are crucial for defending the Indian Factory. The

UK

should try and capture Kwangtung to keep Japan at bay.
Sacrificing Russian tanks next to the Russian capital may be good if it prevents Japan from reinforcing it or attacking through it on the next turn.
Yakut is often worth Russia recapturing, especially when an Indian Factory is in play. It forces Japan to take it back, Russia cashes out 4 higher with respect to Japan, and it eliminates a potential blitz path into the Russian capital and a Japanese force buildup in Yakut. Japan's resultant front-line structure is more strained because they must protect Soviet Far East and Manchuria.
A Dead Zone Does Not Need to be Occupied
Consider counterattack structures before moving forces into an unoccupied territory. Early-game Egypt is an illustration. If the UK abandons Egypt to better defend an Indian factory, the UK transport near India is still available for an amphibious counterattack.
A Dead Zone Can Be Derived from Multiple Attack Structures
For example, especially in the late game, Germany must leave enough units in their capital so a combination of UK, then US, then Russian attacks cannot wear down the German defenses and capture Germany.
---
Final Observations
For a beginner, as with Chess, openings can be studied and memorized and played by the book, but the mid-game is too unpredictable to distill so neatly, and there's no substitute for practice and experience. Only playing will lead to a deep understanding the overall strategic positions and how to notice and take advantage of dead zones, strafe attacks, and minimal captures. When added to sound opening play you'll make quick work of an inexperienced player.
When two seasoned players face-off, this understanding and these techniques often lead to very long games whose stalemate is often only broken when someone catches a string of bad luck during a critical engagement. When this begins to happen regularly in your play group you'll know these lessons have been thoroughly internalized.
---
This essay is 8.2k words. The original was 38k! ↩

Industrial Production Certificate, or Axis & Allies money. ↩

The original essay called this 100% defensive hits, which is misleading. Combat is resolved by comparing the results of N die rolls to a unit's attack/defense value, so the number of hits is binomially distributed. The expected value of this distribution is <E> = NP, where P is the attack/defense value ÷ 6. For simplicity, we use the shorthand 4 attack/defense to mean an expected value of 4 hits on attack/defense. This is often a fractional value, which is rounded when discussing simulated battles. In practice, the variance of the outcome is as significant and insightful as the expected value. An attacking force of 20 infantry (which hit on a roll of 1) has the same expected value (3.33) as a force of 5 bombers (which hit on a roll of 4), but the infantry have both a tighter distribution of outcomes (because there are more dice) and a longer tail (because the maximum number of hits is 20 vice 5). It's a bit gauche when playing over the table, but for online play an Axis & Allies calculator that performs Monte Carlo simulation can show not just the expected value but the variance of any battle—both for a single round or a fight to complete annihilation. ↩

We'll discuss a notable exception later, a UK factory in India or a US factory in Sinkiang. ↩

Throughout, I use Britain to refer to the island and the UK to refer to the nation, even though the British Isles are labeled United Kingdom on the map and several territories are annotated with "British Occupied". ↩

There are rare circumstances where the UK should not build a factory: (1) Germany has to call off the attack on the main UK fleet after losing too many units. If this happens, the game is generally over anyway; (2) If the Germans occupy both sides of the Egyptian canal on their first turn, possibly allowing the Germans to attack the Indian Factory on turn 2. If either of these things happen the UK should save its cash and help the US attack Germany directly with fleet and air support. ↩

If Germany used a bomber to destroy the first-turn Atlantic transports, then don't bother with Carrier: buy an extra fighter instead. ↩