Inspired by Vanity Fair's series My Phone: The preferred apps, ringtones, backgrounds, and hot downloads of the technology elite.
Phone: Black iPhone 5
Ringtone: Xylophone, but I had to look it up because my phone is almost always in vibrate mode (don't call it silent). For years I've considered the first four seconds of this song as a custom ringtone [warning: f-bomb], but it seems likely to get me into awkward social situations. I do use custom vibrations.
Case: Please.
Background: In front of the jellyfish tank at the Atlanta Aquarium. It's dark enough to be an effective background.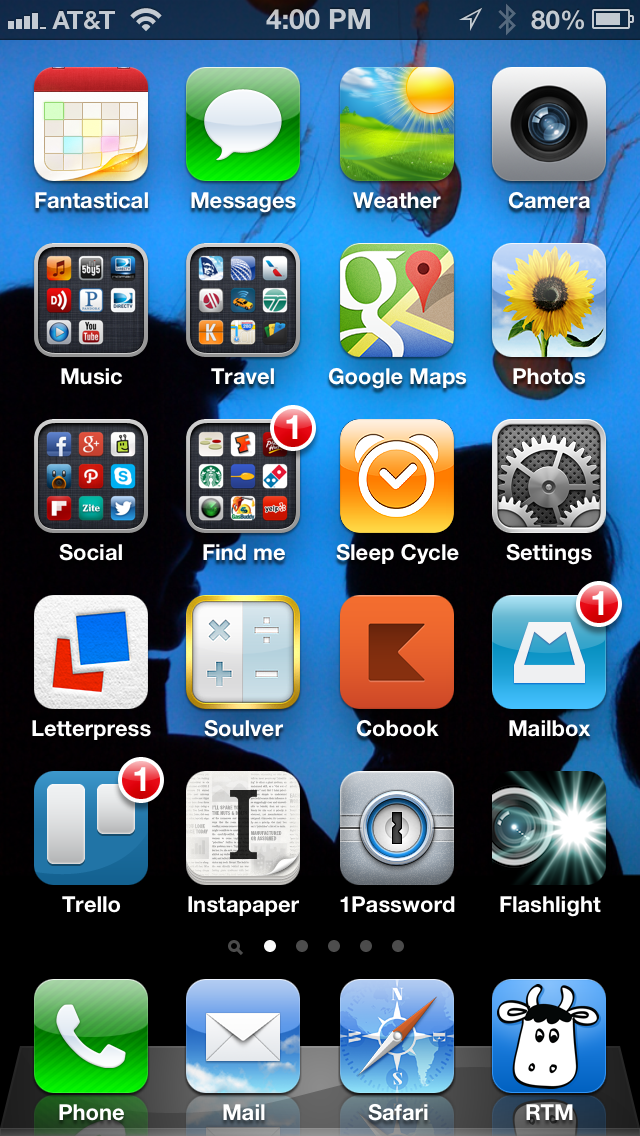 Last Text: Request for technical information from a customer.
Last App I Used: Tweetbot
Currently Obsessed with: Mailbox. (Yeah, get in line. I signed up embarrassingly early.) I've been an Inbox Zero kid for a while, but their implementation is killer. Even ninja's need weapons.
Last Download: SatelliteSafari. Worth playing with if you have any interest in space. It's visually amazing, albeit perhaps more so if you appreciate the math on the inside. You'll also want it if you backed SkyCube on Kickstarter.
Most Surprising App on Home Screen: Trello. I use it every day to manage projects at work.
Text or Call? Talking on the phone is high bandwidth and low latency, so I prefer calls for two-way and complicated communications. Otherwise, text.
Remaining Battery: 80% and it's 4 pm. I was docked a lot of today.