When I moved to West Seattle, every current resident asked if I'd heard about the West Seattle Blog. It was required reading, I was told, for staying informed about our little part of the city.
Almost four years later I still skim every headline, read what's relevant to me, and yes, recommend it to new residents. WSB is my portal for local news, and I thought of it immediately when reading Ben Thompson's piece The Local News Business Model.
In terms of content and cost structure, WSB is exactly what Ben advocates:
Infrastructure: It's a WordPress site and has always been online only. Content is mostly generated by a wife-and-husband team, with occasional freelancers (and high-quality photos submitted by readers1). That same two-person staff generates tons of original photos and video, which is cost-effective because it can mostly be done without leaving the peninsula. There's no copy-editing organization, but I can't remember the last time I saw a typo, much less a retraction for some factual error.

Editorial: WSB only covers hyper-local news without any of the filler of traditional newspapers. It's rare that city-wide stories are covered, and when they are it's because of a West Seattle connection or impact. For example, someone declaring their run for Seattle Mayor is a city-wide topic, but the candidate was born here and the event was held at a pizza joint on the beach,2 so there was both an article and an in-person interview.
That hyper-local focus is exactly right. I go to the MMQB to read about the NFL, XKCD for the funnies, The Daily for national news, Ars Technica for science and tech, and yes, Stratechery for business insight. That's because those sources are best-in-niche and I like their style. I don't need a newspaper to aggregate all of these disparate interests anymore. I throw their feeds into my RSS reader to make my own daily newspaper.
What doesn't track with Ben's advice are the business operations. It's not a subscription service, so the site is festooned with advertising that I never see because I interact with the site mostly through RSS. That said, I definitely see the native advertising that shows up in the feed (e.g. sponsored announcements of new businesses) and it is often useful because it's also hyper local.3
It's massively impressive that a two-person team is the de facto paper-of-record for a neighborhood of 90,000 25,000 people. Perhaps they could make more money with a fee-based business model and fewer readers, but I suspect as long as the local advertising model holds up WSB will stick to what they know.
---
Update: Thanks to a tweet from the WSB itself, I realized I'd misread the linked population stats, which defines West Seattle as a very small part of what that phrase typically means.4 (It's a lot like Hawaii being both the name of a state an one of the many islands that make up the state.)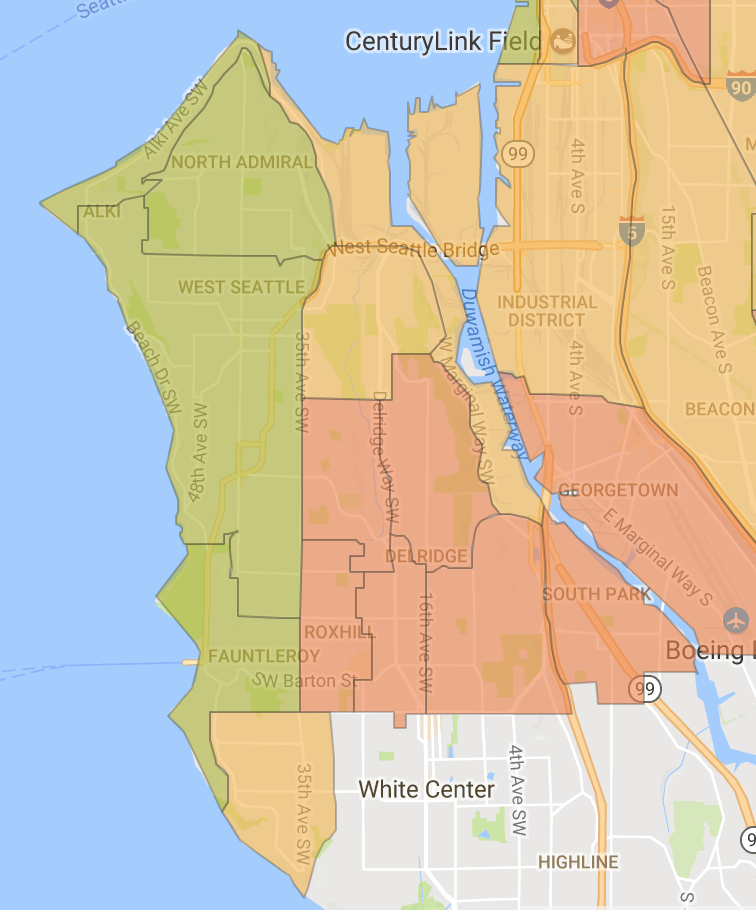 By adding up the following neighborhoods defined in the original source I get 90,000:5
Alki
Arbor Heights
Fauntleroy
High Point
Highland Park
North Admiral
North Delridge
Riverview
Roxhill
South Delridge
South Park
West Seattle
---
Mostly of beautiful sunsets. ↩

Where obviously "the beach" means West Seattle's Alki beach, the best beach in the entire state. ↩

If a board game shop with adult beverages or a pie shop opens within walking distance I want to see those ads. ↩

Wikipedia has a very crisp definition: "…[West Seattle] encompasses all of Seattle west of the Duwamish River." ↩

This is close enough for me to validate the 100,000 figure from the tweet, especially since I don't have great insight into the currency or providence of the data and didn't include anyone living in the portion of the Industrial District west of the Duwamish. ↩